Farrier Collection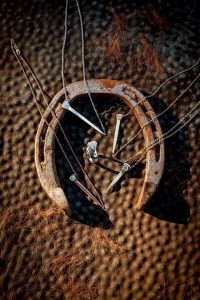 Take a fancy to The Farrier Collectiona nd reward yourself with the gold standard done in Diamonds & Gold: White, Yellow and Rose. Finished simply & complemented with brilliant Diamonds: Pave and Studs. Uniquely yours from $1,575 Inquiries most welcome at 616-634-2802 ask for Debby
Take the tasking out of holiday shopping with an array of every day to elaborate equestrian gifts. We remembered to include the "reason of the season" highlighting some halo organizations with the true gift of giving.
Lyte Up Your Ride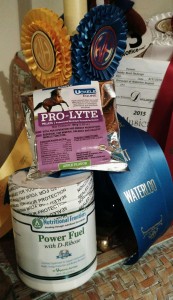 This one-two punch for both horse and rider are both legal and necessary. Feeling flat, fried or frazzled? Go from wilting to winning with this powder potion for people in a handy jar for your tack trunk or golf bag! This energy inducing compound packs a punch with D Ribose that tastes like it was delivered fresh from a lemonade stand.
Stable Advice With Sissy   . . .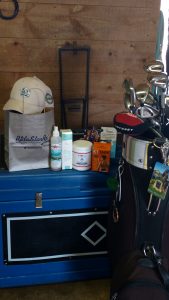 What's In My Trunk/Bag?
Spring has sprung making it a perfect time to reload your personal items within your Trunk or Golf Bag.   Call it a "Twofer" in my case as I make it a point to hit the links  as well as the stables.   This spring I had the pleasure of playing at The PGA National with MSU former Football players, in a gathering dubbed "The Sparty Party."   The golf was tops in entertainment and we weekend warriers  were a little worse for the wear by day two.   This "Vitamin Chick" was at the ready with a few of my favorite things: KT Tape &  ICE Rays, which  lent a hand in the support department,  while Power Fuel eased us into the early mornings and kept us playing strong durning the welcomed heat.   I was a little  stingy with my Silver Sol . . ."the skins saver," as I was low  on extras at the moment.   I won't make that mistake again!! Closest To The Pin contests reminded me to ad some "pins  and needles" for quick fixes to both carrying vessels>>> just in case "stuff happens".   In which case you might need a  shot of " Spray The Day,  ( a mineral, mini shower,) in a bottle.  I won't leave home without it!   Or, my Lucky Bra, rabbit's foot and a four leaf clover.   Its a great day to play!!!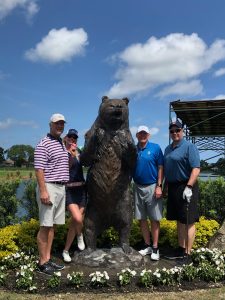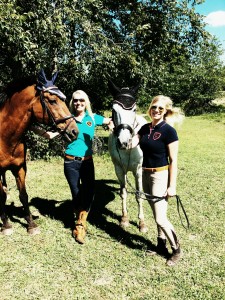 It's not too far afield to say Manfredi caught the apple of my eye's attention.  Paige pictured pretty in pink & navy polo atop fashion forward breeches by Waldhausen sporting a sleek ankle gusset. My matching polo pops with color accenting my custom leather Druh belt and designer buckle cinching another version of Waldhausen breeches easily borrowed from generations. Equis.com,Waldhausen.com, RideStarRx.com
Kicks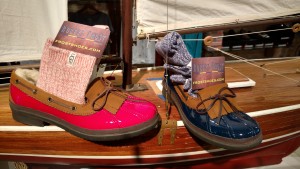 Give your show boots some well deserved stall rest with these comfy kicks from Robert Frost, "shoe guy" to the Great Lakes Equestrian Festival in Traverse City, Michigan. He hasn't forgotten the ladies, either. Offerings include suede mini-stilettos to muck about town types. A little lift in a shiny new shoe goes a long way. Frostshoes.com
The Gift Of Giving
Speaking of giving, how about going all in and scratching a check to a well deserving organization that devotes all of their energies to rescuing horses & humans!   Now, that's something I can get behind.  Introducing the Cheff Center.   The original therapeutic riding center whose mantra is so simple and true, it's like ham and eggs:  Ride – Recover.  We all know this intuitively and they, at the Cheff Center have put together programs year round to that end.  The Pegasus Program gives wings to girls designed to teach great problem solving skills in a fun and success oriented setting.  My daughter, Paige, and I are signed up to volunteer and are inviting our Stock Tie friends and all others to participate in making a difference in our lovely world of horses this holiday season.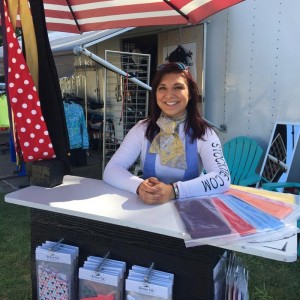 Speaking of Mother's and Daughter's, Amanda and Terri have hit the ground running with their fashion forward, bright and colorful Stock Ties,  no longer confined to the color of sugar, or the centerline!   Sport your neckwear at high velocity over hill and dale or at the next she-she soiree. After all, you're not trying to hide; they don't call it a horse show for no reason.   StockTie.com
The Gift Of Travel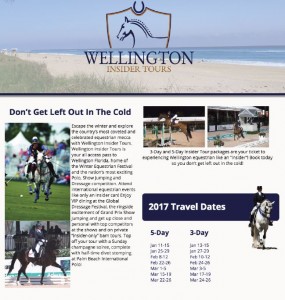 Say no more, just point and shoot at this shiny new website to get your pals dialed in to the Wellington Winter Equestrian Festival scene. Lisa has taken the legwork out of all of the questions and unsullied the tangle of assimilating travelers who want to be a party to the biggest show on earth, the season at Wellington, Florida.